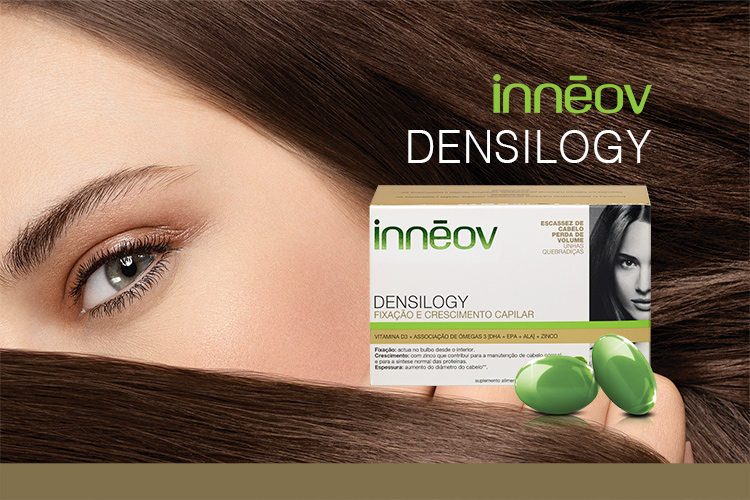 Responde às diferentes necessidades de beleza com suplementos alimentares formulados especificamente para cada condição do cabelo e das unhas.
Nutrientes rigorosamente selecionados por especialistas em nutrição: difundem a sua ação no interior do organismo, traduzindo-se em beleza exterior. A sua eficácia no cabelo e nas unhas é avaliada e comprovada sob controlo de dermatologistas.
O suplemento alimentar Densilogy atua diariamente no interior do bulbo capilar para manter a fixação e o crescimento do cabelo. A sua fórmula contém um complexo que associa 100% do valor de referência do Nutriente de Vitamina D, essencial ao organismo e naturalmente pouco presente na alimentação, e os ácidos gordos Ómega 3 (DHA+EPA+ALA) e Zinco.

Composição: Vitamina D3, Ómegas 3 (DHA+EPA+ALA), Zinco, Vitamina C, Vitamina E, Licopeno.

No arranque da campanha, cada youzzer recebe um kit Innéov Densilogy, com os seguintes conteúdos para a experimentação:

• 1 kit para um 1 mês de suplementação de Innéov Densilogy;
• 5 vales de desconto na compra de uma embalagem de Innéov Densilogy para partilhar com todas as suas amigas;
• 1 folheto informativo com informações sobre o produto, campanha, o que fazer e como "espalhar a palavra".
Vamos premiar as fotografias que melhor demonstrem a experiência Innéov Densilogy.

Para participar, cada youzzer apenas precisa de partilhar as suas fotografias de campanha que mostrem o contributo de Innéov Densilogy para o bem estar e saúde do seu cabelo, utilizando os hashtags #youzzDensilogy, #InneovDensilogy e #youzz.

Um júri Innéov Densilogy escolherá as 3 vencedoras entre as 10 mais votadas.
Change location
Select your country from the list bellow
and you'll be redirected to the matching youzz page.