Campanhas de influenciadores
Hoje em dia, os Influenciadores fazem parte das estratégias de marketing de qualquer empresa. Até agora, a utilização de influenciadores dentro de uma estratégia de marketing tem sido um jogo de números - alinhando-se com a pessoa com o maior número de seguidores para obter resultados e alcance. Mas alcançe não significa tudo hoje. Houve uma mudança na forma como eles estão sendo usados para estratégias que focam nos aspectos qualitativos, e não quantitativos, da influência nas redes sociais.
Autenticidade, narrativa mais profunda, maior envolvimento e o potencial de atingir um público mais personalizado estão a levar as marcas para um novo tipo de influenciadores. Cada vez mais, as marcas estão a recorrer a pessoas com um número menor de seguidores para ajudá-las a partilhar as suas mensagens.
Hoje em dia há dezenas de milhões de influenciadores normais e não profissionais. Quando juntos, através do alcance coletivo, têm audiências suficientemente grandes para fazer a diferença nas conversas e tendências que são extremamente poderosas nas redes sociais. Através da plataforma Youzz é possível gerir centenas ou até milhares de influenciadores ao mesmo tempo. Isto é poderoso porque os influenciadores com um público menor têm taxas de envolvimento mais elevadas. Agrupar e gerir em larga escala pode ser incrivelmente eficaz, mais eficaz do que trabalhar com alguns A-listers. Existem 3 etapas principais para o fazer:
1
Seleção de Influenciadores
We will get the best mix of influencers (we have over 500,000+ opt-in consumers and micro-influencers) that are the best match for your brand.
A tecnologia Youzz fornece dados demográficos e psicográficos avançados sobre os influenciadores e os seus públicos, incluindo idade, sexo, localização, educação, idioma, influência social, interesses, afinidades com marcas e muitos outros tópicos. Podemos também fazer perguntas especiais para filtrar perfis específicos.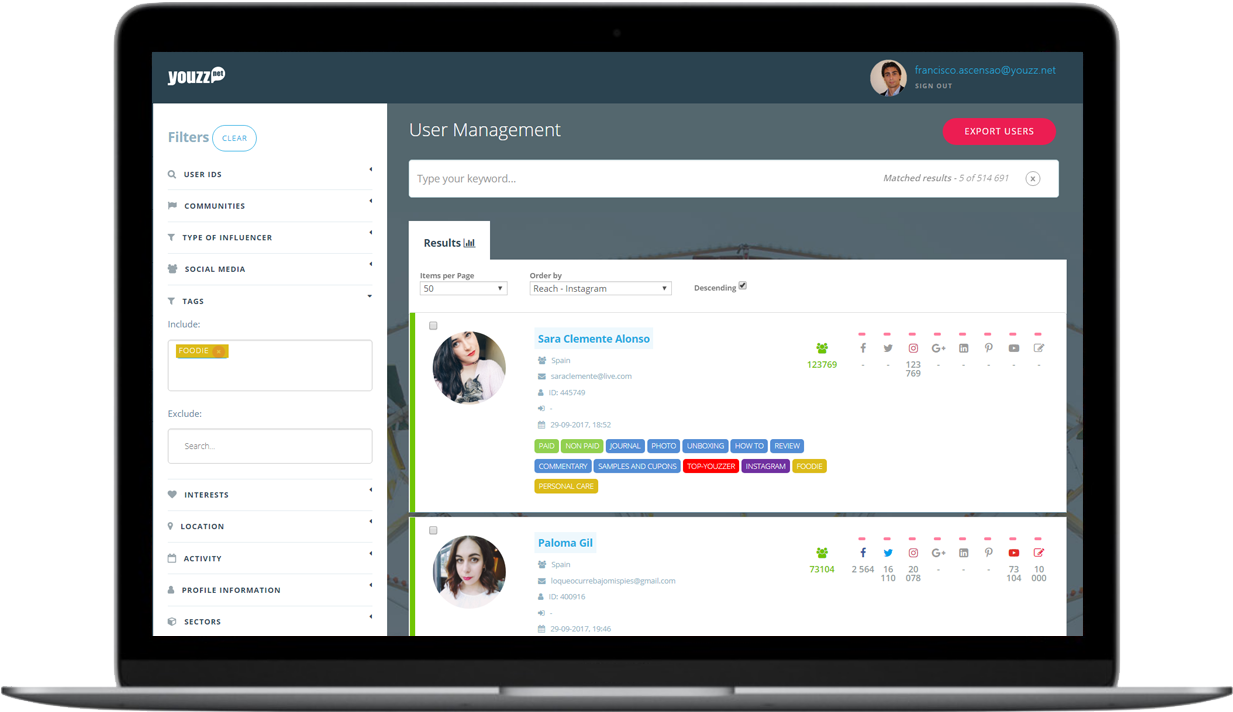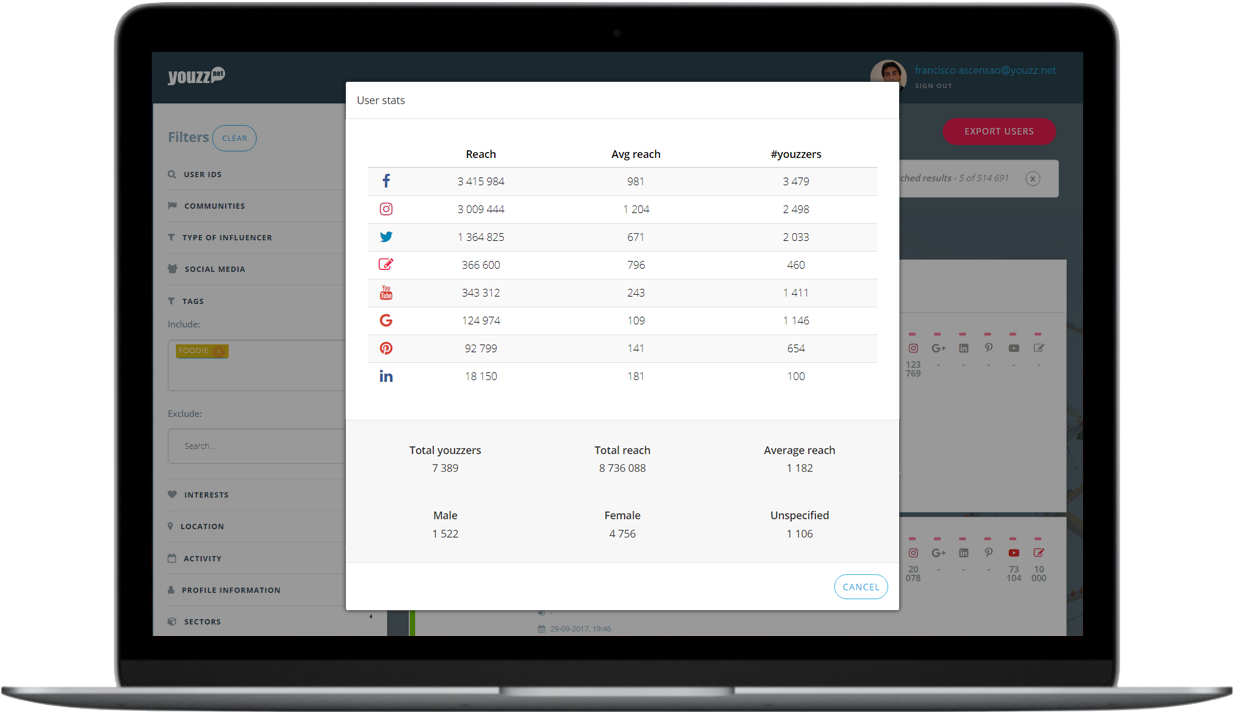 2
Gestão de influenciadores
A Youzz utilizará todo o seu conhecimento de marketing sobre influenciadores para criar e implementar rapidamente o seu programa de influenciadores independentemente do tamanho, estrutura ou complexidade. Incluindo a comunicação com o influenciador, a construção da narrativa e o briefing de conteúdo que leva à ativação social.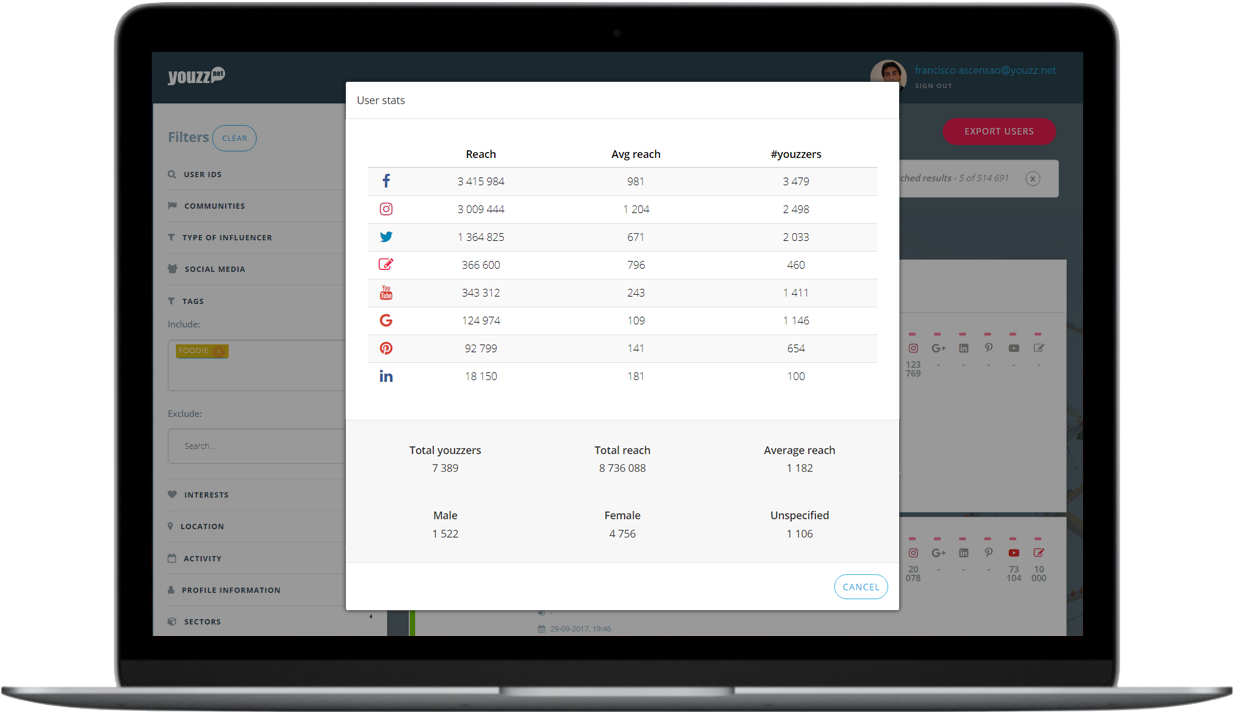 3
Monitorize os resultados
Podemos medir o alcance, as impressões, o envolvimento, a conversão e até o ROI. Você pode monitorizar o desempenho em tempo real do seu conteúdo com análises que mostram o alcance, as impressões e o envolvimento em todos os canais sociais.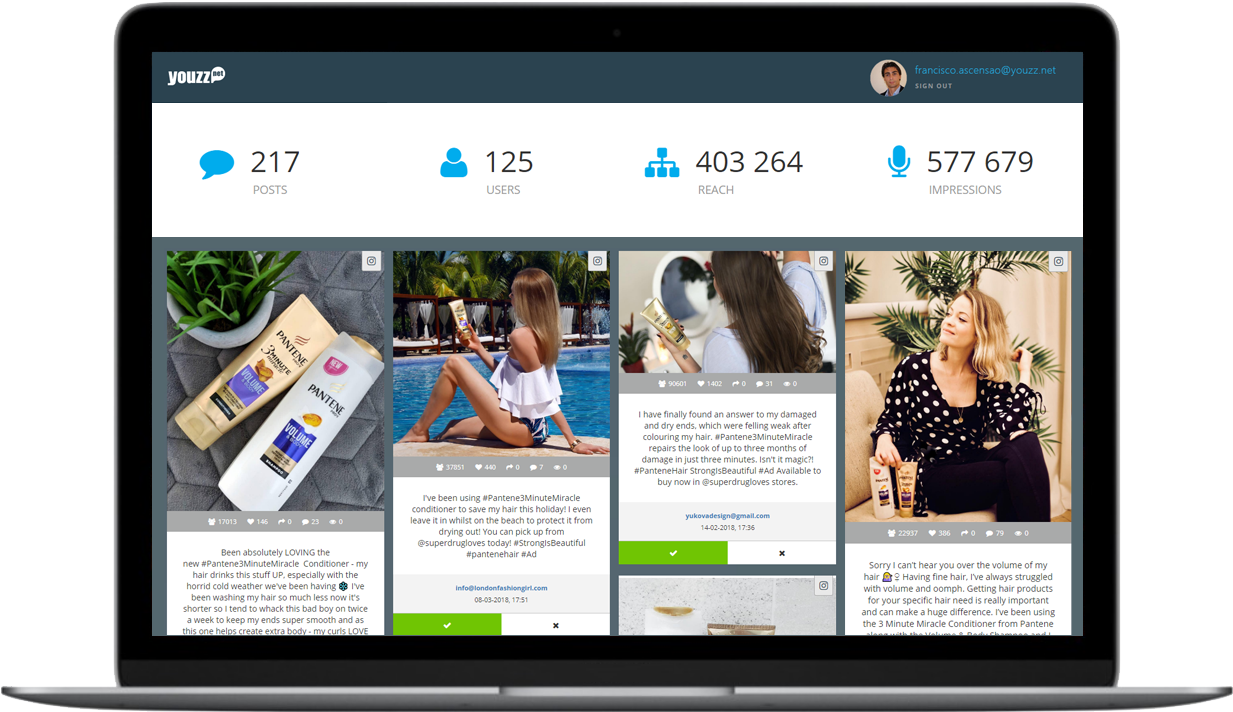 Programa de influenciadores
Começa em € 2.000,00 / mês. Cobrado anualmente.
SABER MAIS
Campanhas de influenciadores
Valor por projecto. Peça-nos uma proposta.
SABER MAIS
Programa de influenciadores
Começa em €2.000,00 / mês. Faturado Anualmente(1)
Ajudamo-lo a criar a sua própria Comunidade de Influenciadores e a observar o crescimento do conteúdo orgânico para impulsionar sua marca em SEO.
Youzz will select and manage every month a group of micro influencers (we have more than 500k influencer profiles and we will choose the ones who fit better with your brand).
Irá acompanhar os resultados no nosso Brand Analytics: conteúdo produzido, alcance gerado, impressões e envolvimento, feedback de produtos e análises de produtos para comércio eletrónico e para construir sua reputação de marca on-line.
Escolha o melhor programa para si (Faturados Anualmente):
(1)Preço para 25 influenciadores em program de gestão mensal.

Preencha os seus dados e em breve entraremos em contato para criar uma proposta
Campanhas de influenciadores
Pague por projeto. Peça-nos uma proposta
Crie uma campanha de embaixadores de marca com 500, 1 000 ou até mesmo 10 000 consumidores e micro influenciadores.
Youzz irá gerir todo o projeto, desde a seleção até a entrega dos resultados. Poderá acompanhar tudo no nosso Brand Analytics: conteúdo / publicações, alcance, impressões e envolvimento, comentários de produtos, análises de produtos e os muitos insights gerados.

Preencha os seus dados e em breve entraremos em contato para criar uma proposta
Obrigado pelo seu contacto
You will ear from us very soon!
Change location
Select your country from the list bellow
and you'll be redirected to the matching youzz page.