Campañas con influencers
Los influencers forman parte de la estrategia de marketing de casi cualquier empresa hoy en día. Hasta ahora, utilizar influencers dentro de una estrategia de marketing ha sido un juego de números, con la persona que tenga más seguidores y así obtener resultados y buen alcance. Pero el alcance no lo es todo. Ha habido un cambio hacia estrategias que se centran en los aspectos cualitativos, más que en los cuantitativos, de la influencia en las redes sociales.
Autenticidad, narrativa más profunda, mayor compromiso y el potencial de llegar a un público más adaptado están cambiando la relación de las marcas con un nuevo tipo de personas influyentes. Cada vez más, las marcas recurren a personas con un menor número de seguidores para que compartan sus mensajes.
Hoy en día hay decenas de millones de influencers no profesionales. Cuando se combinan, tienen un público lo suficientemente grande, a través del alcance colectivo, para marcar la diferencia en conversaciones y tendencias que son enormemente poderosas en las redes sociales. A través de Youzz, es posible administrar cientos o incluso miles de personas influyentes al mismo tiempo. Esto es muy beneficioso porque los influencers con menos alcance tienen mayores tasas de interacción. Al agruparlos y administrarlos a gran escala, puede ser increíblemente efectivo, más efectivo que trabajar con algunos A-Listers. Hay 3 pasos principales para hacerlo:
1
Selección de influencers
We will get the best mix of influencers (we have over 500,000+ opt-in consumers and micro-influencers) that are the best match for your brand.
La tecnología de Youzz proporciona datos demográficos y psicográficos avanzados sobre las personas influyentes y sus audiencias, incluida la edad, el sexo, la ubicación, la educación, el idioma, la influencia social, los intereses, las afinidades de marca y muchos otros aspectos. Y si necesitaramos hacer preguntas específicas para buscar algún perfil en concreto, podemos hacerlo en un instante / búsqueda rápida.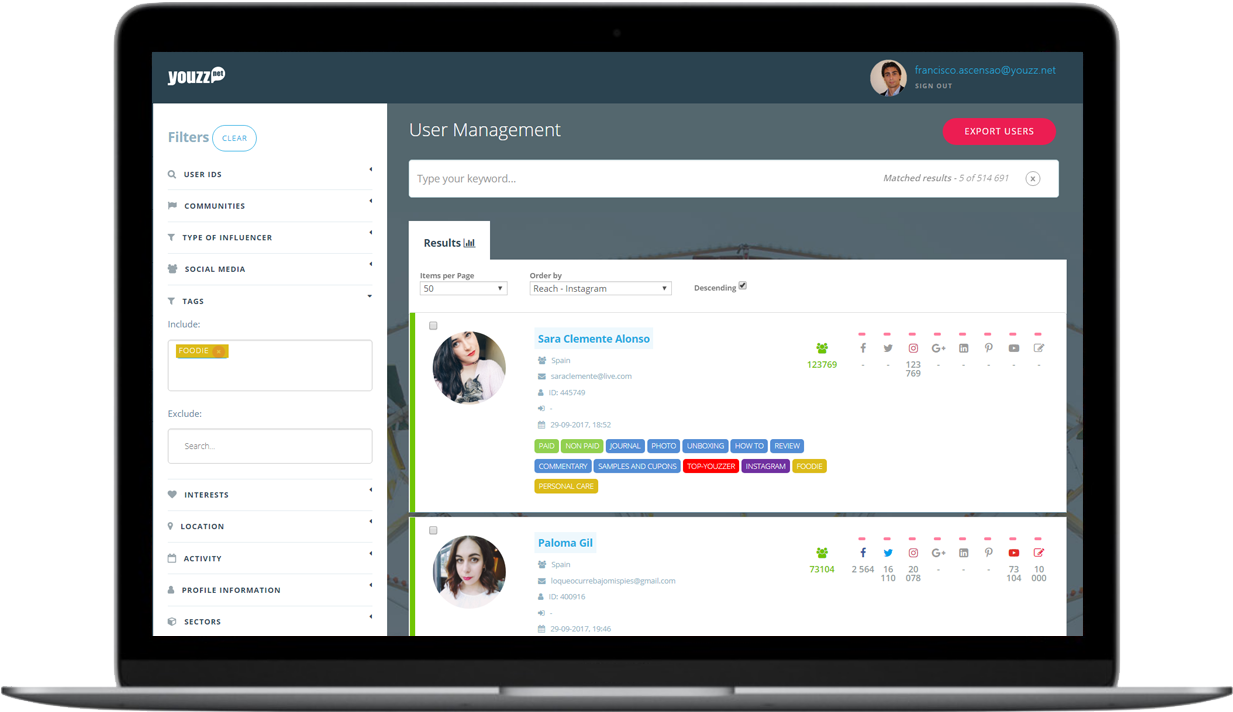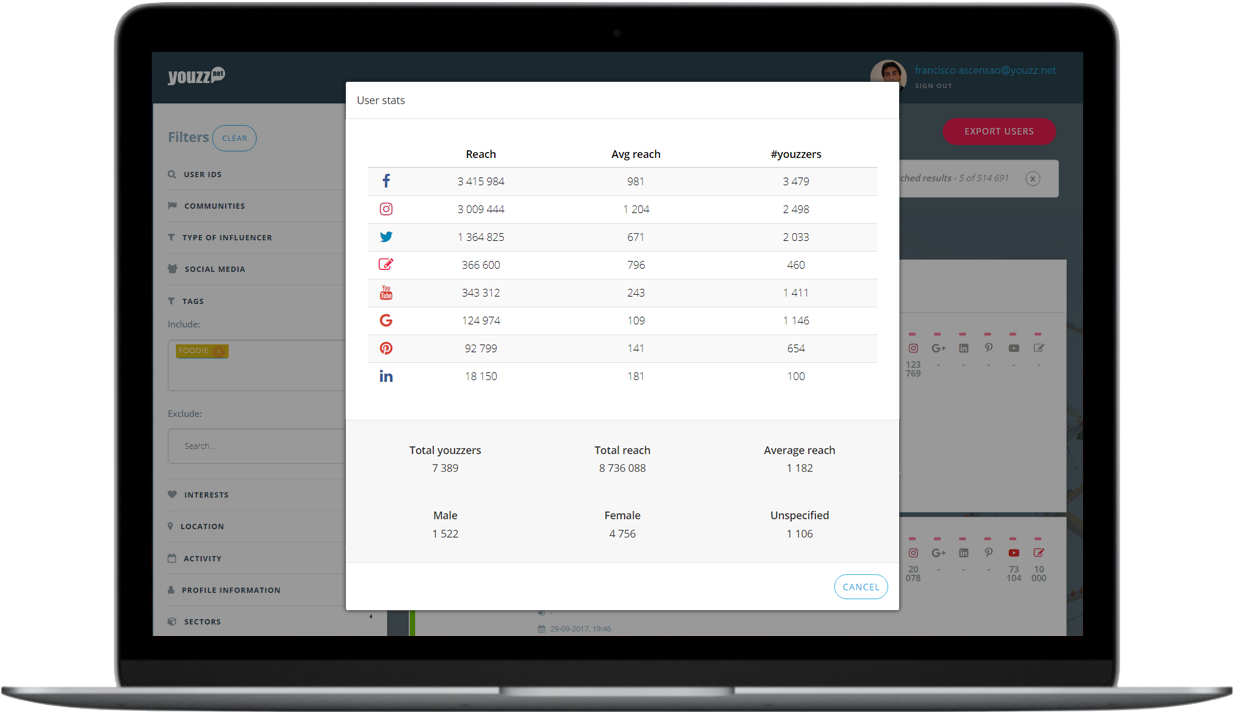 2
Gestión de influencers
Youzz aplica todos sus conocimientos de marketing de influencers para construir e implementar rápidamente tu programa de influencia de cualquier tamaño, estructura o complejidad. Incluye la comunicación con los influencers, la construcción de historias y el contenido informativo que conduce a la activación social.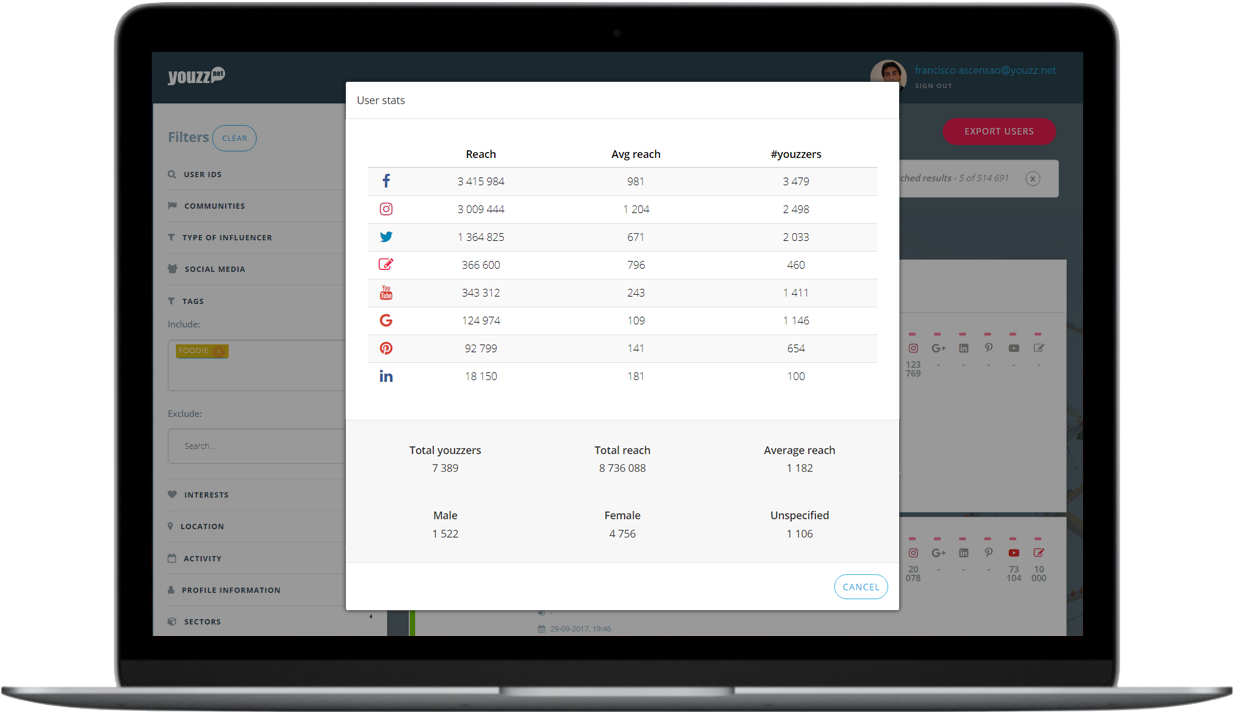 3
Monitorización de resultados
Podemos medir el alcance, las impresiones, el compromiso, la conversión e incluso el retorno de la inversión. Podrás supervisar el rendimiento en tiempo real de tu contenido con análisis que le muestran el alcance, las impresiones y el compromiso en todos los canales sociales.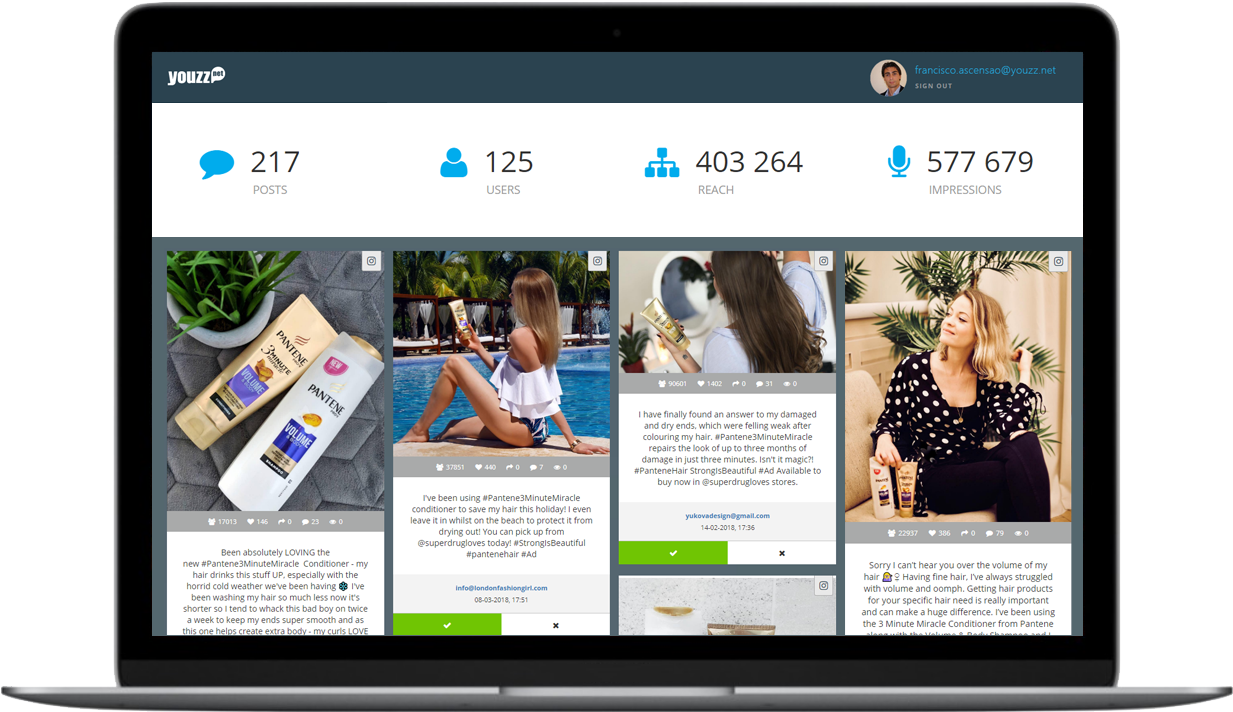 Programa con influencers
Comienza con 2.000€/mes. Facturado anualmente(1)
Te ayudaremos a construir tu propia comunidad de influencers y a ver crecer el contenido orgánico para impulsar tu marca en SEO.
Youzz will select and manage every month a group of micro influencers (we have more than 500k influencer profiles and we will choose the ones who fit better with your brand).
Podrás seguir los resultados en nuestra herramienta de análisis de marcas: contenido producido, alcance generado, impresiones y participación, comentarios de productos y reseñas de productos para el comercio electrónico y para construir tu reputación de marca en línea.
Plans you can go from (payed annually):
(1)Precio para un programa mensual de gestión de 25 influencers.

Completa tus datos y nos pondremos en contacto contigo en breve para prepararte una propuesta
Campañas con influencers
Pagar proyecto por proyecto. Pregúntanos por una propuesta
Crear una campaña de influencers con 500, 1.000 o incluso 10.000 consumidores y micro influencers.
Youzz gestionará todo el proyecto, desde la selección hasta la entrega de resultados. Podrás seguir todo en nuestra herramienta anlítica de marcas: contenido / publicaciones producidas, alcance, impresiones y participación, comentarios de productos, reseñas de productos y muchas ideas generadas.

Completa tus datos y nos pondremos en contacto contigo en breve para prepararte una propuesta
Gracias por contactar
You will ear from us very soon!
Change location
Select your country from the list bellow
and you'll be redirected to the matching youzz page.