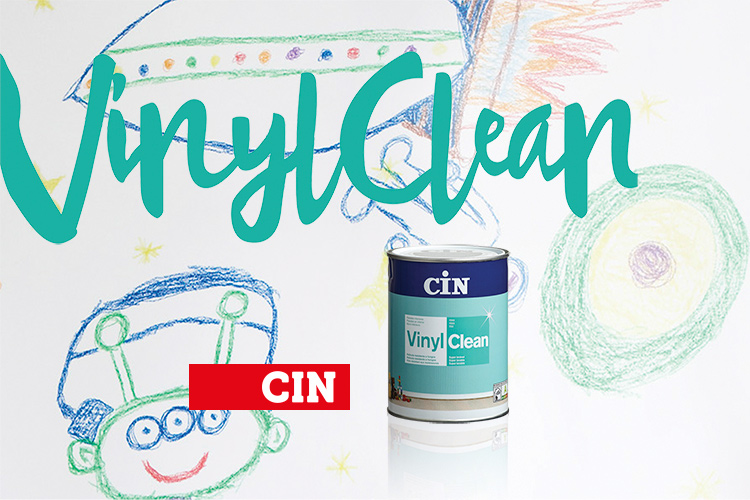 Destina-se à pintura de paredes interiores e garante os melhores resultados na limpeza das mesmas, graças à sua tecnologia inovadora. Basta passar um pano húmido com um pouco de detergente para a parede ficar como nova. É a verdadeira tinta à prova de manchas e da imaginação das crianças!
- Super lavável
- Aspeto mate
- Disponível em centenas de cores
- Elevada resistência a brilhos e marcas
- Resistente ao desenvolvimento de fungos e algas
VinylClean, da CIN, foi a marca eleita pelo Prémio Produto do Ano 2016, na categoria Tintas.

A Eleição dos Produtos do Ano é realizada através de um estudo de mercado, recorrendo a uma base de 2.300 consumidores, representativo da população portuguesa, que avalia os produtos com base na inovação, na utilização e na satisfação inerente à utilização.
Este Prémio tem como principal missão promover a inovação e a competitividade.

1. Usa roupa adequada e tem um pano húmido sempre à mão para limpar possíveis derrames.
2. Precisas de: VinylClean, rolo, trincha, tabuleiro de pintura e fita para isolar as zonas que não queres pintar.
3. Proteje todos os objetos, móveis e o chão. Remove ou proteje os espelhos das tomadas e interruptores das paredes a pintar. Isola os rodapés e os aros das portas e janelas com fita e assegura-te de que as paredes estão secas e firmes.
4. Raspa a tinta velha mal aderente no caso de superfícies já pintadas. No caso de superfícies novas, aplica uma demão de um primário adequado.
5. Repara todas as fissuras e buracos com massa de reparação Hantek. Deixa secar e passa com uma lixa de grão fino de modo a nivelar a parede e deixá-la macia.
6. Se a parede tiver manchas de poeira ou gordura lava-as primeiro e retira bem o detergente com água limpa.
1. Abre a embalagem de VinylClean e mexe cuidadosamente.
2. Dilui o produto a 5% com água e coloca-o num tabuleiro de pintura.
3. Começa por pintar os ângulos formados pelas paredes, à volta das portas e janelas e junto dos rodapés com uma trincha.
4. Depois pinta as grandes superfícies com o rolo anti-gota, estendendo a tinta em duas passagens cruzadas, primeiro na horizontal e depois na vertical.
5. Deixa secar 3 a 4 horas, e repete o procedimento para aplicar a segunda demão.
6. A pintura de fundos contrastantes pode precisar de uma 3a demão. Nesse caso, deixa secar a demão anterior 3 a 4 horas.
7. No final lava o rolo, a trincha e o tabuleiro com água enquanto a tinta não seca.
8. Em 30 minuntos a parede já estará superficialmente seca.
Nesta campanha 20 youzzers™ tiveram a oportunidade de conhecer a Tinta Mate Super Lavável VinylClean, da CIN.

Clica para acederes ao guia de campanha digital.
Premiámos os youzzers com as fotografias CIN mais originais.

Para estares entre os vencedores deste passatempo terás apenas de tirar as fotografias que consideras que melhor traduzem a tua experiência nesta campanha e fazer o upload na Galeria de campanha e nas tuas redes sociais, usando os hashtags #VinylClean #youzzcin e #youzz.
Sabes que gostamos de partilhas online. Por isso mesmo, os youzzers não deixaram de fazer as suas partilhas no Facebook, Instagram, Blog ou qualquer outra rede social. Não se esqueceram também de as definir como públicas para que todos pudessem ver como decorreu a sua experiência. E claro, usaram sempre os hashtags #VinylClean #youzzcin e #youzz.

Poderás conhecer as publicações de todos os youzzers na Galeria de campanha.

A melhor publicação foi premiada no final da campanha!
Change location
Select your country from the list bellow
and you'll be redirected to the matching youzz page.