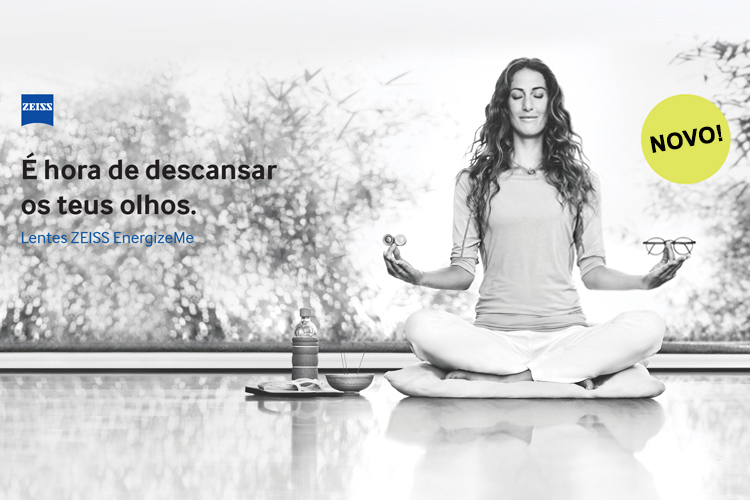 Para depois das lentes de contacto
ZEISS é um grupo tecnológico internacional do setor da óptica e optoelectrónica que desenvolve e comercializa produtos do mundo da óptica, ao mesmo tempo que investe no progresso tecnológico.
A ZEISS está entre os líderes mundiais.
Agora, pela primeira vez, lança uma solução dirigida a quem usa lentes de contacto para ajudar a revigorar os olhos cansados e a evitar o stress visual.
ZEISS EnergizeMe é o resultado de uma combinação única, – e testada com sucesso – uma nova geometria de lente, uma tecnologia inovadora e um tratamento de alta qualidade, que ajuda a relaxar a vista cansada e previne o stress visual. Criada especificamente para os utilizadores de lentes de contacto, é complementada com a inovadora ZEISS Digital Inside Technology e o tratamento de alta qualidade ZEISS DuraVision BlueProtect.
Geometria ZEISS EnergizeMe
Uma geometria especial, adaptada aos padrões visuais específicos dos utilizadores de lentes de contacto, reduz o stress visual após retirar as lentes de contacto.
ZEISS Digital Inside Technology
Uma tecnologia inovadora especialmente desenvolvida com vista a optimizar a geometria das lentes para as distâncias de leitura dos meios tradicionais (38 cm) e dos dispositivos digitais (30 cm) prevenindo assim o stress visual.
ZEISS DuraVision BlueProtect
Este tratamento – em ambas as superfícies da lente – ajuda a reduzir o deslumbramento digital e a prevenir o stress visual causado pela radiação azul emitida por ecrãs e outras fontes de luz artificial.
Visão abrangente e descontraída
94% dos utilizadores testados afirmam ter um campo visual muito bom.
Visão nítida e sem stress
93% dos utilizadores testados têm uma visão nítida igual à que possuem com as suas lentes de contacto.
Redução do deslumbramento digital
91% dos utilizadores testados sentiram-se menos deslumbrados pela luz emitida pelos dispositivos digitais.
9 em cada 10
Utilizadores sentiram-se mais revigorados e com menos stress visual digital com as lentes ZEISS EnergizeMe
ZEISS EnergizeMe
ZEISS EnergizeMe é a solução confortável de lentes oftálmicas para todos os que usam lentes de contacto mais de 3 a 5 dias por semana e que predendem revigorar a vista cansada:

1 Ajudam a relaxar a vista cansada
2 Previnem o aumento do stress visual
3 Visão mais nítida e descontraída
Visita o site ZEISS
Faz Gosto na página de Facebook e deixa-nos a tua opinião através do Blog na página de campanha.
Recomenda e partilha ZEISS
Através do teu Blog e das tuas redes sociais, com os hashtags #youzzenergizeme e #youzz.
5 prémios para as melhores performances
No final da campanha, os 5 youzzers que mais partilhas fizerem receberão um kit com um prémio Carl ZEISS.
Nota: Uma recomendação é contabilizada por cada amigo que siga o teu link de partilha. Pela tua participação neste WOMCast ganhas mais pontos para a tua conta youzz, o que melhora a tua possibilidade de ficares entre os selecionados para as campanhas.

PARABÉNS AOS VENCEDORES
Ana Silva, Clotilde Santos, Lara Lima, Paula Coelho e Verónica Caraça
Os prémios serão enviados até dia 31 de Agosto de 2017
*Todos os vencedores irão ser previamente contactados. O prémio será enviado para a morada de entrega do perfil pessoal de cada youzzer. O prémio deverá ser reclamado, no máximo, até dia 15 de Setembro de 2017. Após essa data, o vencedor perderá qualquer direito de usufruto do prémio.
Liga-te às redes sociais!
Acompanha as novidades que vamos partilhando contigo nas redes sociais da youzz:
Change location
Select your country from the list bellow
and you'll be redirected to the matching youzz page.