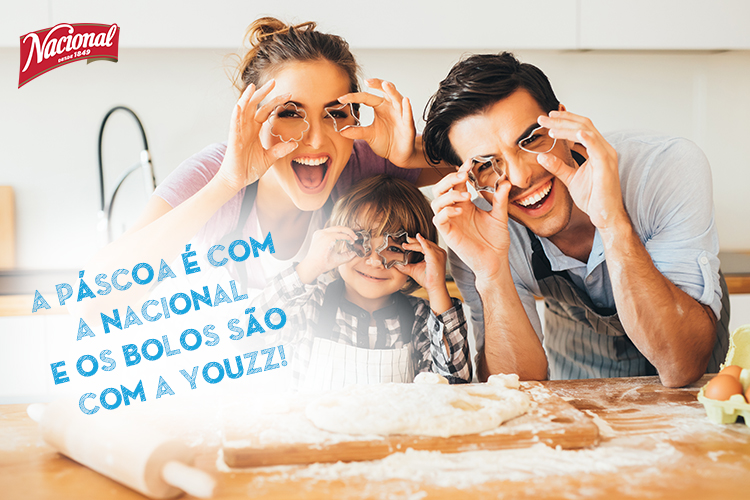 Há mais de 160 anos que a Nacional faz parte das memórias dos portugueses, e queremos continuar a ser a Marca que acompanhou, acompanha e acompanhará sempre as famílias portuguesas, porque o que é Nacional é bom.
A família não se escolhe. Constrói-se. Família é o passado, o presente e também o futuro.
É quem nos cativa, quem partilha as nossas histórias e as nossas memórias. Família é quem tem um lugar especial no nosso coração. Tradicional, invulgar, excepcional, Grande ou pequena, que faz rir, chorar, balançar. Que conhece os nossos segredos e que nos aceita como somos, para o que der e vier. Nacional, a partilhar histórias saborosas há mais de 160 anos.


A Nacional faz parte das casas Portuguesas há mais de 160 anos e quer que os próximos 160 sejam iguais ou melhores, por essas razões e porque a Páscoa é tempo de família, a Nacional quer-te convidar a participar numa campanha que vai de Norte a Sul do país, passando por todas as casas Portuguesas para encontrar as melhores receitas de bolos ou doces feitos com as farinhas da Nacional.
O Desafio é muito simples, queremos ouvir a tua história e provar as tuas receitas, para isso só tens que partilhar connosco vídeos ou fotografias em que nos mostras as tuas histórias e receitas usando as farinhas da Nacional.
A campanha irá realizar-se entre 12 de Abril e 10 de Maio de 2017, durante este período só serão aceites as participações que sejam partilhadas na Galeria da campanha e vossas redes Sociais. O objectivo será partilhares histórias e receitas, com a Farinha Nacional utilizando os hashtags da campanha #youzznacional e #youzzportugal
A Nacional quer conhecer e provar as melhores histórias e receitas de Portugal. Contamos contigo para que nos proves que de bolos e farinha percebes tu. No final a Nacional vai oferecer, até às 20 melhores participações, produtos Nacional para que possas mostrar as tuas habilidades sempre que quiseres!
Queremos felicitar a seguinte lista de participantes: Viviane Brandão, Vera Lúcia Ferreira, Teresa Paiva, Sara Morais, Sandrine Ginja, Paula Coelho, Maria Leonor Santos Silva, Maria Fernanda Aflalo, Mafalda Santos, Liliana Carvalho, Filipa Lopes, Clotilde Santos Tila, Cidália Silva, Cátia Santos, Cátia Graf, Carla Ramalho e Carina Norte. Cada uma das vencedoras irá receber produtos Nacional
Quais as farinhas que deves utilizar?


Farinha Extra-fina
Para um toque especial
Com trigos selecionados, a Farinha Extra Fina sem fermento é ideal para a confeção de bolos, massas, tartes, biscoitos entre outros. Dê um toque pessoal às suas receitas e verá que ficarão deliciosas e requintadas.


Farinha Integral
Inspiração saudável
Com trigos selecionados, a Farinha Integral da Nacional tem alto teor de fibra, resultante da moenda do grão de trigo completo (inclui a casca). Muito utilizada em bolos de mel, de frutas, pastéis e também na confeção de pão integral.


Farinha de Trigo e Alfarroba
A inspiração mediterrânica
A Farinha de Alfarroba é uma mistura de trigo e alfarroba, desenvolvida para todos os usos culinários desde do pão, bolos e bolachas. Combinamos a vagem da alfarroba e a espiga de trigo, garantindo um sabor adocicado aos seus preparados.


Farinha para Bol

o

s
Bolos Altos e Fofos
Produzida a partir de trigos selecionados, a Farinha para Bolos é indicada para a confeção de bolos, biscoitos e outros produtos de confeitaria e pastelaria. Os seus bolos ficarão deliciosos, altos e fofos.
Change location
Select your country from the list bellow
and you'll be redirected to the matching youzz page.