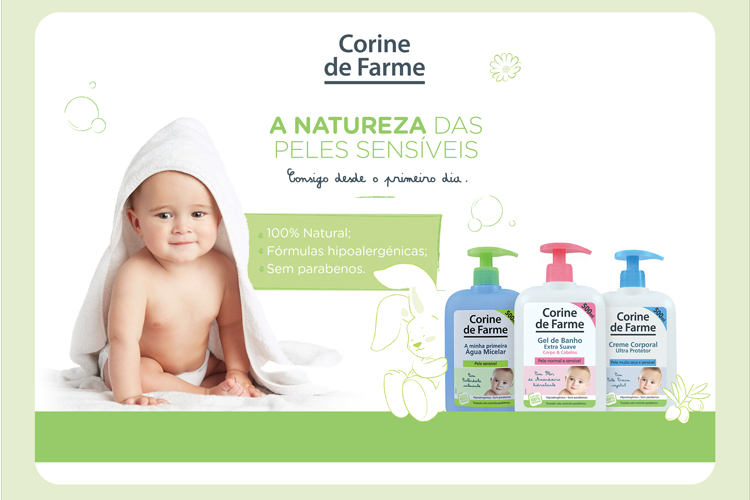 Cuidados tão suaves como o bebé....
A CAMPANHA CHEGOU AO FIM :(

Agradecemos a participação de todos! Foram partilhados muitos e bons momentos com Corine de Farme :)
Uma marca que coloca toda a sua experiência ao serviço dos bebés, das mães e das mulheres de todo o mundo para lhes proporcionar suavidade e beleza.
Fórmulas de alta tolerância para um grande respeito por todos os tipos de pele, mesmo a pele sensível.
FORMULADO SOB CONTROLO FARMACÊUTICO


TESTADO SOB CONTROLO DERMATOLÓGICO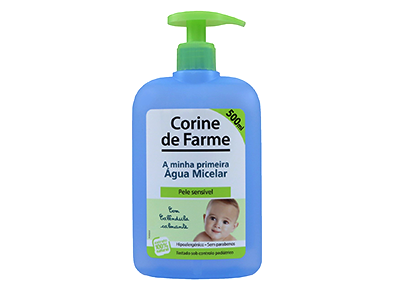 A Minha Primeira Água Micelar
Limpa e elimina suavemente as impurezas do rosto, do corpo e do rabinho do bebé.
Fórmula suave enriquecida com extracto de Calêndula com propriedades calmantes e suavizantes, ideal para as peles sensíveis.
Respeita a pele delicada do bebé deixando-a suave, calma e delicadamente perfumada.
Gel de Banho Flor de Amendoeira
Limpa suavemente a pele e os cabelos delicados dos recém-nascidos, dos bebés e dos adultos.
Reduz o risco de pele seca deixando-a suave, hidratada e delicadamente perfumada.
Os cabelos ficam suaves e macios.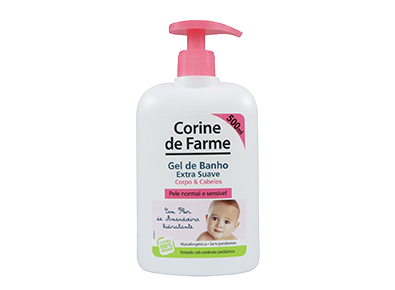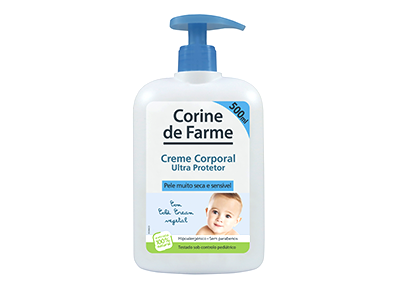 Creme Corporal Cold Cream
Nutre, repara e protege naturalmente a pele seca e sensível do bebé desde o primeiro dia.
Protege a pele das agressões externas (vento, frio, água, calcário) e permite à epiderme a recuperação de suavidade e maciez.
O Creme Corporal penetra rapidamente e deixa a pele delicadamente perfumada.
COMO FUNCIONOU A CAMPANHA?
Cada youzzer recebeu
1 embalagem 500ml A Minha Primeira Água Micelar
1 embalagem 500ml Gel de Banho Flor de Amendoeira
1 embalagem 500ml Creme Corporal Cold Cream

1 folheto informativo
1 autocolante

Cada youzzer ofereceu
3 Amostras:
Gel de Banho Extra Suave Flor de Amendoeira 25ml (frasco)
Gel de Banho Calêndula 25ml (frasco)
Creme Corporal Cold Cream 4ml (saqueta)

1 folheto informativo
Receberam
Cada youzzer recebeu na sua morada os produtos da Corine de Farme!
Experimentaram
Todas as youzzers experimentaram Corine de Farme.
Partilharam
Tiraram fotos e partilharam nas suas redes sociais: #youzzcorinedefarme #youzzportugal
Avaliaram
O feedback foi importante! Contaram a sua experiência com Corine de Farme!
DÚVIDAS? FALA CONNOSCO!
Identifica-te sempre com o teu email registado na comunidade youzz



Change location
Select your country from the list bellow
and you'll be redirected to the matching youzz page.