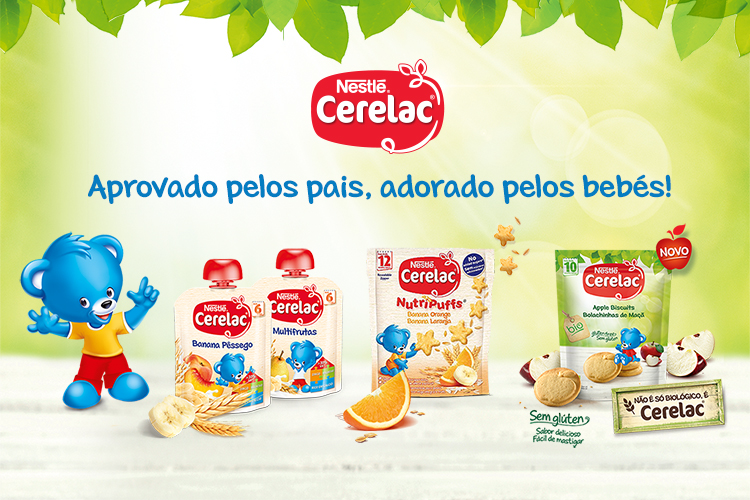 A CAMPANHA QUE TRANSFORMOU A ALIMENTAÇÃO DIÁRIA
DOS MAIS PEQUENINOS CHEGOU AO FIM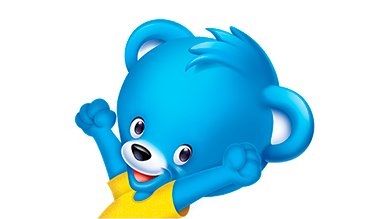 OBRIGADO PELA TUA PARTICIPAÇÃO
Esta campanha pretendia dar-vos o melhor! Sabemos que te preocupas com a alimentação do teu filho e que queres sempre dar-lhe a opção mais saborosa e nutritiva. Os novos produtos Nestlé CERELAC são a solução mais equilibrada para os snacks e lanches diários dos mais pequenos.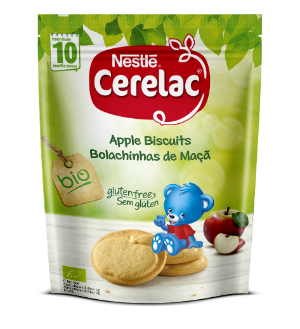 CERELAC Bolachinhas Biológicas de Maçã são especialmente desenvolvidas a pensar nas necessidades dos bebés mais crescidos.



Sem glúten, fáceis de mastigar e apresentam a textura ideal para bebés a partir dos 10 meses.

O tamanho e a forma destas bolachinhas adaptam-se às pequenas mãos e à boca do bebé. Apresentam uma textura adequada aos primeiros dentes do bebé e derretem-se pouco a pouco, com um sabor delicioso que adoram!


CERELAC NutriPuffs Banana Laranja

é um snack nutritivo de cereais que poderá ser oferecido entre as refeições. Especialmente desenvolvido a pensar nas necessidades específicas dos bebés a partir dos 12 meses de idade.


Preparado com uma combinação de arroz, trigo integral e frutas e sem açúcares adicionados, apresenta a textura ideal, derretendo-se facilmente na boca do bebé. O tamanho e a forma de

CERELAC NutriPuffs

são adequados às pequenas mãos do bebé e o seu sabor é delicioso!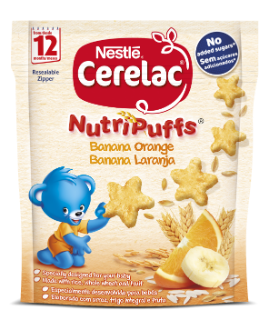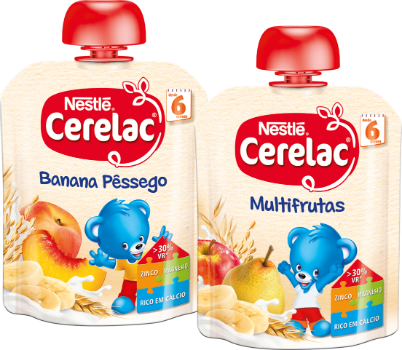 Pacotinhos CERELAC Banana e Pêssego ou Multifrutas
são um alimento lácteo que combina os benefícios nutricionais do leite e dos cereais com o delicioso sabor da Banana e do Pêssego ou Multifrutas, adequados para bebés a partir dos 6 meses.



Com um sabor suave e uma textura cremosa

.

São uma excelente opção para oferecer um lanche saudável, equilibrado e muito prático, a qualquer momento e em qualquer lugar! E não precisa de frio!
PARA OS YOUZZERS

1x CERELAC Bolachinhas Biológicas de Maçã
1x CERELAC NutriPuffs Banana Laranja
1x Pacotinho CERELAC Banana e Pêssego
1x Pacotinho CERELAC Multifrutas
O QUE TINHAM A FAZER?
Experimentar os produtos CERELAC!
Partilhar com amigos e família, dar opinião e mostrar nas redes sociais fotos e vídeos com os hashtags
#youzzCERELAC #adoroCERELAC
TENS DÚVIDAS OU QUESTÕES?
FICAMOS À ESPERA DO TEU CONTACTO...

membros.portugal@youzz.net



Change location
Select your country from the list bellow
and you'll be redirected to the matching youzz page.