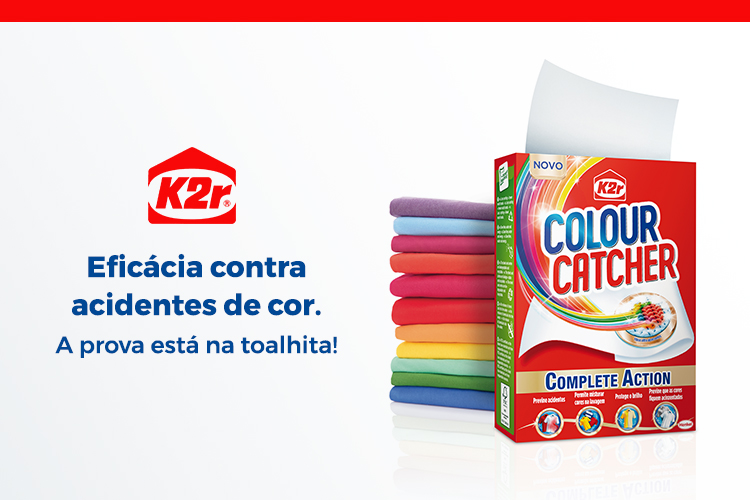 CAMPANHA VÁLIDA ATÉ 26/07/2018
CHEGOU AO FIM ESTA CAMPANHA!
OBRIGADO POR NOS MOSTRARES AS TUAS ROUPAS!
Agora com Colour Catcher da K2r o teu guarda-roupa irá brilhar!
Colour Catcher da K2r ajuda a prevenir os acidentes de transferência de cor na lavagem e protege o brilho das cores. As tuas roupas vão estar sempre novas e impecáveis.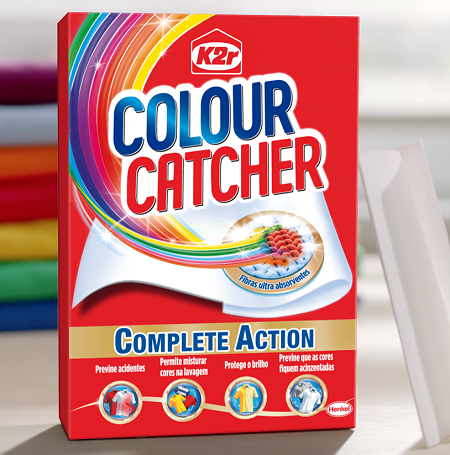 Previne acidentes de cor
Protege o brilho das cores
Eficaz a todas as temperaturas
Permite misturar várias cores na lavagem
Previne que as cores fiquem acinzentadas
Evita que os resíduos de sujidade se depositem nos tecidos
A eficácia contra acidentes de cor
A prova está na Toalhita!
Precauções: Alguns tecidos são mais suscetíveis a acidentes de cor: cores escuras e intensas, roupa de algodão e tecidos que desbotem. Para a lavagem destes tecidos é recomendável aumentar o número de toalhitas. Aconselha-se cuidado na mistura de roupa branca e de cor. Roupa colorida nova deverá ser lavada separadamente pelo menos nas primeiras seis lavagens. Roupa de cama, toalhas e calças de ganga devem ser sempre lavados separadamente. A eficácia não pode ser garantida quando uma grande quantidade de tinta é libertada de roupas que desbotam. Seguir as instruções de utilização do fabricante da máquina de lavar. Adequado para lavagem na máquina ou à mão. Adequado a todos os tipos de tecido, a todas as temperaturas e ciclos de lavagem.
Se és uma das 600 youzzers a participar...
EXPERIMENTA
Vais receber Colour Catcher da K2r para dar uma nova vida às tuas roupas! Terás ainda que as partilhar com as tuas amigas pois elas também vão adorar esta experiência.
AVALIA
Queremos que nos contes mais sobre como ficam as tuas roupas com Colour Catcher da K2r! Há Questionários disponíveis para nos dizeres tudo. A opinião das tuas amigas também conta.
PARTILHA
No Blog vão ser lançados os Desafios. Por cada um deles terás que publicar 2 fotos e/ou vídeos e partilhar, de forma pública, no teu feed de Instagram e/ou Facebook com #ToalhitasColourCatcher
TENS ALGUMA DÚVIDA?
Envia-nos um email ou segue-nos nas redes sociais!
Change location
Select your country from the list bellow
and you'll be redirected to the matching youzz page.