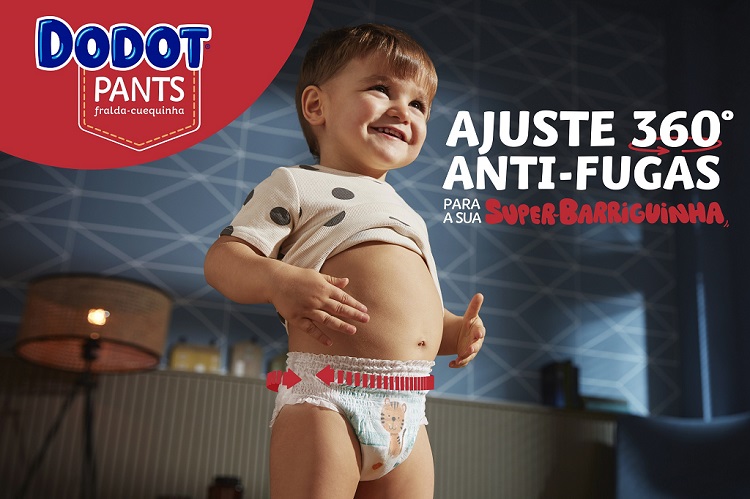 Chegou ao fim a campanha que deu um novo conforto ao teu bebé!

Obrigado pela vossa participação.
Queres que o teu bebé se sinta Super Feliz?
A fralda que se adapta perfeitamente ao teu bebé, permitindo um Ajuste 360º à sua "Super Barriguinha".
Evita folgas e fugas


Mais eficiente do que uma fralda convencional pois devido à sua cintura super elástica, oferece um ajuste total e duradouro. É ideal para os bebés mais ativos.
Fáceis de colocar e tirar


Bastam 3 simples e rápidos passos: subir (basta puxar para cima com o desenho para a frente), rasgar as laterais da fralda e descartar.
O que é que tu e o teu bebé têm que fazer?
Experimentar as fraldas Dodot Pants que vão receber! Partilha esses maravilhosos momentos a dois nas tuas redes sociais, por cada Desafio publica 2 fotos e/ou vídeos, separadamente e de forma pública, no feed do teu Instagram ou Facebook (a conta que tens ligada à youzz e pela qual foste recrutado, a quem tem o maior número de seguidores). Publica sempre com o hashtag #DodotPantsSuperAjuste, não te esqueças que tens também que identificar a página @dodot_pt

.
Depois de experimentarem, queremos que avalies a vossa experiência através dos questionários que vais ter disponível. As fraldas-cueca Dodot Pants trouxeram maior conforto ao teu bebé? Evitaram qualquer fuga? Vais ter que nos contar tudo!
membros.portugal@youzz.net
Change location
Select your country from the list bellow
and you'll be redirected to the matching youzz page.