Campanha terminada. Até breve!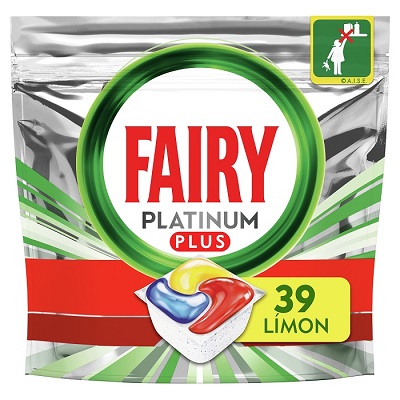 Sabias que com Platinum Plus não precisa de fazer pré-lavagem antes de colocar na máquina?



Melhor produto da Fairy contra os alimentos difíceis, deixa os pratos limpos e como novos.
Para deixar a loiça como nova, experimenta Fairy Platinum Plus. As pastilhas para lavar loiça Fairy não só destroem os resíduos alimentares difíceis à 1ª, como também combatem a falta de brilho que vai surgindo ao longo do tempo, para ajudar a recuperar assim o brilho da tua loiça. As cápsulas Fairy Platinum Plus, com três câmaras de líquidos para máquina de lavar loiça, dissolvem-se rapidamente, mesmo em temperaturas mais baixas. Podem ser utilizadas em ciclos curtos e vêm com um agente de enxaguamento, função de sal e proteção de prata e vidro integrados.
LAVAR A LOIÇA
Vais lavar a tua loiça na máquina e comprovares todo o poder de Fairy Platinum Plus! Nada vai ser como dantes.

DAR OPINIÃO
Depois de testares, tens o teu Questionário disponível para dares a tua opinião sincera. Queremos que nos contes tudo.
PUBLICAR NAS REDES
Vai seguindo os Desafios que te lançamos e publica os teus conteúdos em feed de Instagram ou Facebook, modo público, com #FairyPT #FairyPlatinumPlus #LimpaMaisDoQuePensa
Email
membros.portugal@youzz.net

Change location
Select your country from the list bellow
and you'll be redirected to the matching youzz page.