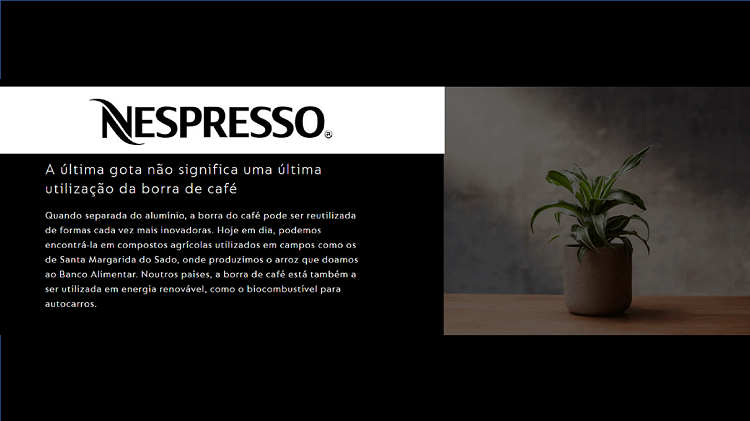 CAMPANHA TERMINADA. AGRADECEMOS A PARTICIPAÇÃO DE TODOS.
Já conheces o Programa Nespresso 'Reciclar é Alimentar'?
'Reciclar é Alimentar' é uma iniciativa de economia circular que começa no momento em que os portugueses bebem café e separam a cápsula Nespresso. Das cápsulas recicladas é aproveitada a borra do café, depois inserida num composto agrícola para terrenos de cultivo de arroz, na Herdade Monte das Figueiras, em Santa Margarida do Sado. O arroz produzido na Herdade é doado pela Nespresso ao Banco Alimentar.
A Nespresso celebra os doze anos da iniciativa 'Reciclar é Alimentar', através da qual a marca apoia mais de 2.600 instituições de solidariedade social em Portugal. Desde o início do projeto, em 2010, foram já doadas cerca de 750 toneladas de arroz ao Banco Alimentar.
Já o alumínio, um material infinitamente reciclável, é integrado em novos objetos, como canetas, máquinas fotográficas, canivetes ou até bicicletas.

Com 'Reciclar é Alimentar' o momento de beber um Nespresso só termina quando as cápsulas são separadas e recicladas!

Como podes reciclar as cápsulas Nespresso?
Começa por colocar o saco de reciclagem "verde" no Depósito de cápsulas usadas. Depois é só ires colocando as cápsulas usadas dentro do Depósito.
Onde podes entregar as cápsulas Nespresso usadas?
Entrega-as na tua boutique Nespresso ou ao estafeta aquando da tua entrega Nespresso.
Como podes divulgar o Programa "Reciclar é Alimentar"?
Se estiveste a participar nesta campanha, agradecemos a tua participação.

Change location
Select your country from the list bellow
and you'll be redirected to the matching youzz page.