CAMPANHA TERMINADA!
OBRIGADA PELA TUA PARTICIPAÇÃO.
Podes desfrutar em pleno do teu dia mas também da tua noite!
Evax Dia para as tuas rotinas durante o dia. Evax Noite para quando te vais deitar.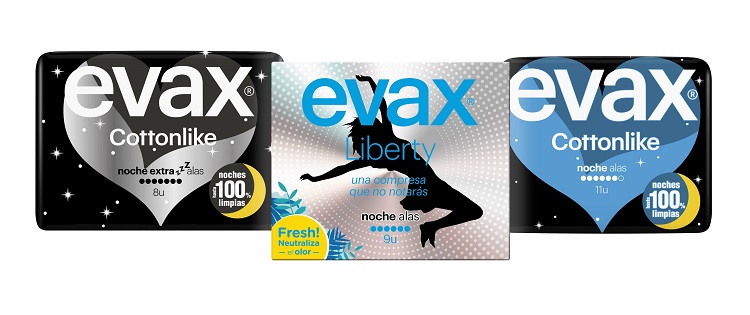 Evax Liberty é fabricado com Flexicel, um material exclusivo que se adapta perfeitamente ao teu corpo e elimina a humidade da pele para manter a sensação de comodidade e limpeza durante todo o dia. Além disso, tem uma delicada fragância que neutraliza o odor e garante a frescura extra.
Agora já tens Evax Liberty Noite para te deixar mais limpa e confortável enquanto dormes! Os pensos higiénicos de noite da Evax permitem às mulheres dormir na posição que quiserem, sempre protegidas e sem problemas.
Evax Cottonlike é a gama de pensos higiénicos que as mulheres nem se lembram que estão a usar. O seu sistema duplo com pérolas neutralizadoras e o seu núcleo proporcionam uma absorção instantânea, mantendo as mulheres 100% limpas, confiantes e sem odor.
Evax Cottonlike Noite para excelente proteção noturna durante o teu período. São mais compridos e mais largos na parte de trás, oferecendo até 60% mais cobertura (vs. EVAX Cottonlike Normal), para que possas ter uma noite tranquila, em qualquer posição. O Sistema Duplo da EVAX possui pérolas que neutralizam e combatem o odor e o seu núcleo absorvente proporciona uma absorção instantânea. Com abas que fixam o penso às tuas cuequinhas e uma cobertura cottonlike que te oferece suavidade extra, estes pensos higiénicos proporcionam-te uma noite tranquila e confortável.
EXPERIMENTA
Vais ter um kit Evax para o teu Dia e para a tua Noite! Guarda a embalagem exterior para os teus conteúdos e tenta não a rasgar muito para que os teus posts fiquem impecáveis!
PREENCHE
Depois deverás preencher o Questionário de youzzer, que te iremos disponibilizar, para dares o teu contributo, opinião e nos contares a tua experiência com Evax.
PUBLICA NAS REDES SOCIAIS
Publica no mínimo 2 conteúdos em feed! Modo público, no teu TikTok, Instagram ou Facebook, com #AtivaOModoNoite e #EvaxDiaNoite e identifica @evaxtampax_Portugal em IG.

Change location
Select your country from the list bellow
and you'll be redirected to the matching youzz page.