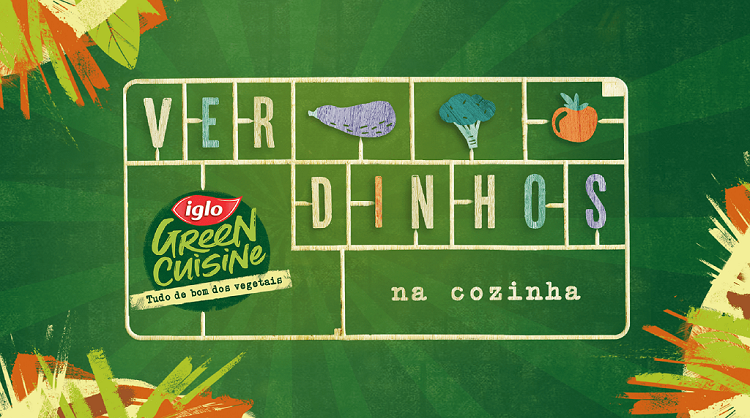 Chegou a hora de sermos todos mais responsáveis pela nossa saúde e bem-estar, como também é altura de estarmos mais atentos à temática da sustentabilidade. A Iglo acredita num futuro de escolhas que nos fazem bem e ao nosso planeta.
Iglo Green Cuisine é então a opção para todos os que querem ter mais verdes no prato ou mesmo para aqueles que não têm grande prática na cozinha.

Verdinhos na Cozinha somos todos nós

, os que não sabem lidar com cozinhados muito elaborados ou aqueles que querem juntar mais verdes à sua alimentação diária!
O QUE TENS A FAZER SE ESTÁS A PARTICIPAR
EXPERIMENTA
Vais receber Iglo Green Cuisine! Experimenta os produtos e faz as tuas receitas! Vamos ser mais Verdinhos na Cozinha?
AVALIA
Queres saber como foi a tua experiência com Iglo Green Cuisine. Como? Basta preencheres o Questionário de Youzzer!
PARTILHA
Mediante os Desafios publica conteúdos em feed de Instagram/Facebook, de forma pública, com os hashtags #greencuisine #VerdinhosNaCozinha e mencion em Instagram @iglo_Portugal
SOBRE IGLO GREEN CUISINE...
Receitas deliciosas que combinam tudo o que há de bom nos vegetais com ervas aromáticas e especiarias para criar refeições surpreendentes e muito saborosas.
Soluções de refeição fáceis e rápidas de preparar, muito saborosas e nutritivas.
Uma gama feita apenas com vegetais, onde se encontra tudo o que é preciso: proteína e nutrientes únicos, em refeições muito saborosas que satisfazem e dão energia.

Produtos 100% aptos para vegetarianos ou apenas para quem quer adicionar mais vegetais ao seu dia-a-dia.


Produtos com proteína vegetal alternativos à carne: Burgers, Almôndegas, Chili, Crispy Burgers, Nuggets, Nuggets Estilo Americano.
Estes produtos são feitos à base de proteína de ervilha e trigo, ricos em proteína, fonte de ferro, baixos em gordura saturada, ingredientes de origem sustentável. Os Burgers, as Almôndegas e os Nuggets são aptos para Vegans e o Chili é apto para Vegetarianos.
Soluções de refeição com vegetais: Burgers de Batata Doce e Quinoa e de Beterraba e Sementes de Linhaça, Veggie Burgers, Falafel, quatro variedades de Veggie Bowls, Fingers de Espinafres, Veggie Burgers, Burgers de Couve-Flor, Bites de Batata Doce.
Sem corantes nem conservantes artificiais, baixos em gordura saturada, aptos para Vegetarianos (alguns casos para Vegans).
Novos

lançamentos alternativos à carne:

Douradinhos Vegan e Salsichas de Proteína Vegetal!

membros.portugal@youzz.net
Change location
Select your country from the list bellow
and you'll be redirected to the matching youzz page.