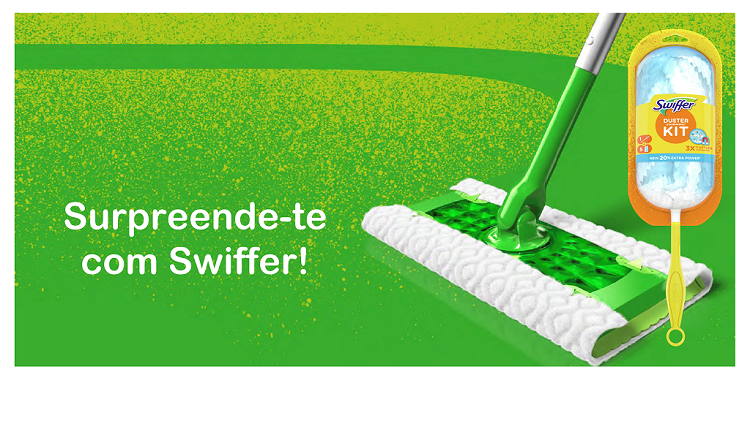 Cada vez mais o nosso dia a dia é uma correria. Por isso, não estamos dispostos a perder horas e horas em limpezas todas as semanas. Para responder aos desafios desta rotina caótica e apressada, acabamos por limpar a casa mais vezes por semana, mas durante poucos minutos. Com Swiffer, consegues repor a limpeza da tua casa em apenas minutos, com resultados incríveis!
Swiffer facilita os pequenos desafios de limpeza do dia a dia!
Mopa Swiffer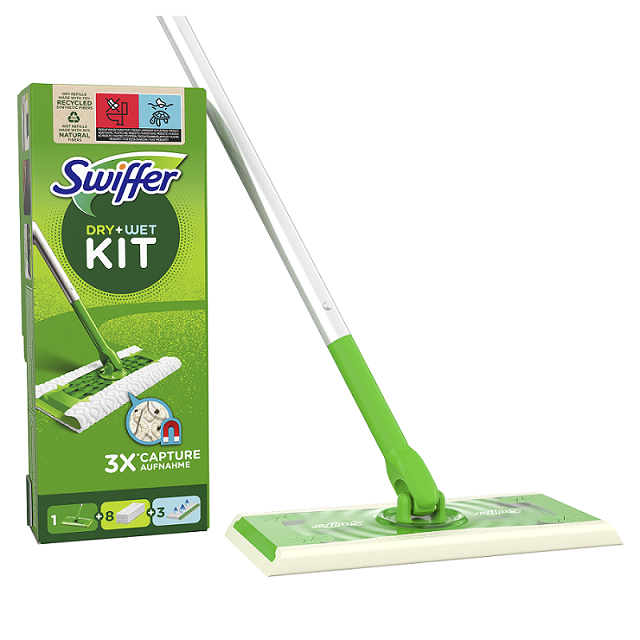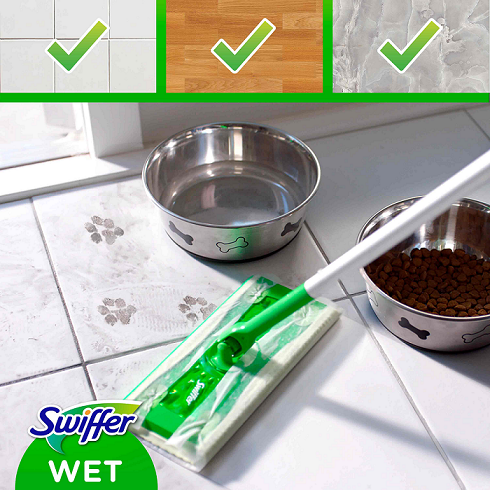 MOPA SWIFFER PANOS HÚMIDOS
Solução de limpeza rápida, fácil e eficaz para piso molhado.
Os panos húmidos da mopa dissolvem a sujidade e resíduos de uma vez por todas, agarrando-os e retendo-os deixando uma fragrância fresca a limpo.


Além disso, com a cabeça giratória de 360° da mopa, é possível limpar mesmo em locais de difícil acesso, entre cadeiras, mesas, sofás, e navegar facilmente em cantos e extremidades onde as vassouras e esfregonas nem sempre conseguem chegar.
MOPA SWIFFER PANOS Secos
Agarra e retém três vezes mais pó, sujidade e pelos do que uma vassoura tradicional.
As recargas agarram e retêm a sujidade, pó, cabelos e pelo de cães/gatos em qualquer superfície de pavimento em casa, três vezes melhor do que uma vassoura tradicional.
A espessura e padrão específicos das toalhitas, em combinação com a sua ação eletrostática permitem apanhar todas as poeiras e retê-las na toalhita.
Adicionalmente, com a cabeça giratória de 360° da mopa, é possível limpar em todo o lado, mesmo em áreas de difícil acesso.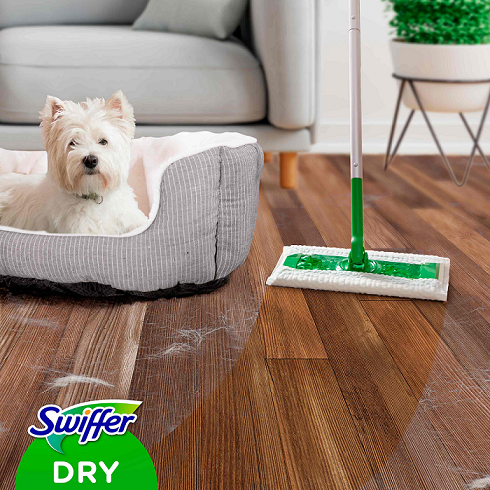 Swiffer Duster
Agarra e retém até três vezes mais pó e pelos do que um espanador de penas tradicional.
Permite agarrar e reter o pó, pelos e alergénios dos ácaros do pó, mas também de cães e gatos das superfícies, graças às suas milhares de fibras macias com revestimento suave.
Os panos para limpeza do pó Swiffer têm fibras únicas que adaptam a sua forma para alcançar cantos e recantos e, desta forma, podes livrar-te do pó e dos pelos em praticamente qualquer superfície, sem os espalhar pela casa.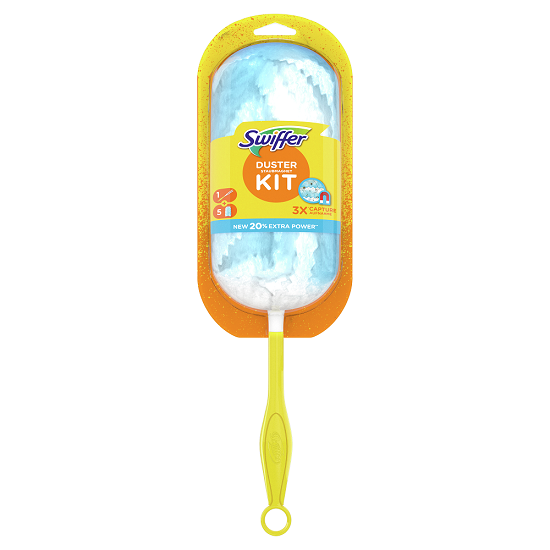 O que tens a fazer se fores participar
Experimenta
Vais receber o teu kit Swiffer. Experimenta-o, vais ver que terás uma boa surpresa!
Avalia
Conta-nos tudo sobre a experiência com Swiffer. Para isso tens o teu Questionário de youzzer.
Partilha
Por cada desafio lançado, publica separadamente e de forma pública, no feed do teu Instagram, Facebook ou TikTok sempre com os hashtags #SwifferPT e #SurpresaSwiffer mencionando também a conta em Instagram @swiffer_pt
membros.portugal@youzz.net
Segue-nos também nas nossas Redes Sociais!
Change location
Select your country from the list bellow
and you'll be redirected to the matching youzz page.