ATENÇÃO!

O Electrão é a única marca de resíduos a participar nesta iniciativa.

Não a confundas com outras empresas do género!
O Electrão - Associação de Gestão de Resíduos - e o Instituto Português de Oncologia (IPO), uniram-se numa campanha de responsabilidade social com o mote "Todos pelo IPO". Esta consiste na promoção da recolha de pilhas, baterias e equipamentos elétricos usados para apoiar o IPO de Lisboa. Quanto maior a quantidade de resíduos recolhida, maior será a contribuição entregue ao IPO pelo Electrão.

A campanha decorre até 31 de dezembro de 2022, tem como objetivo a recolha de pelo menos, 100 toneladas de resíduos, que vão ser convertidos num apoio para o IPO de Lisboa. A quantia atribuída será utilizada para a aquisição de equipamentos médicos. Os resultados da campanha "Todos pelo IPO" serão divulgados em fevereiro de 2023.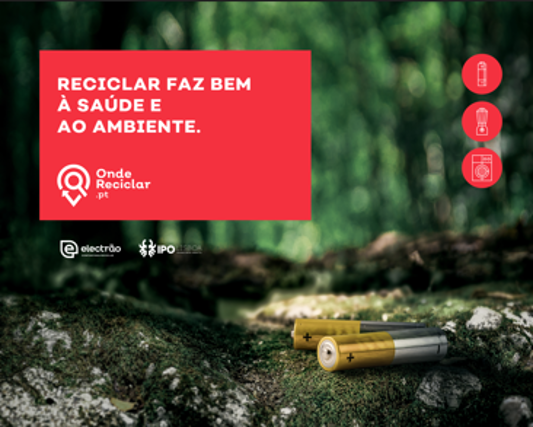 Ao entregares os resíduos ao Eletrão, estás a ajudar o IPO na sua missão de prestação de cuidados de saúde e, ao mesmo tempo, a tornar o planeta mais sustentável, porque "reciclar faz bem à saúde e ao ambiente".

Os locais de recolha de resíduos podem ser consultados em: www.ondereciclar.ptQuem reside em Lisboa, Loures ou Odivelas pode ainda utilizar o serviço Porta a Porta e agendar a recolha de grandes equipamentos elétricos usados, através do 800 262 333.
PUBLICA OS CONTEÚDOS
Por cada desafio, publica no teu feed de Instagram e/ou Facebook, em modo público, com os hashtags e mencionando duas contas no Instagram.
PARTILHA AO MÁXIMO
Segue os Desafios que te vamos enviar e partilha os posts dentro dessas temáticas. Seria bom partilhares pelo menos 2 Desafios à tua escolha.
100 PONTOS :)
No fim da ação vamos colocar na tua conta os 100 pontos pela tua excelente iniciativa. E fica à espera de novos convites para as próximas campanhas:)
Se tiveres alguma questão escreve-nos: membros.portugal@youzz.net
Change location
Select your country from the list bellow
and you'll be redirected to the matching youzz page.