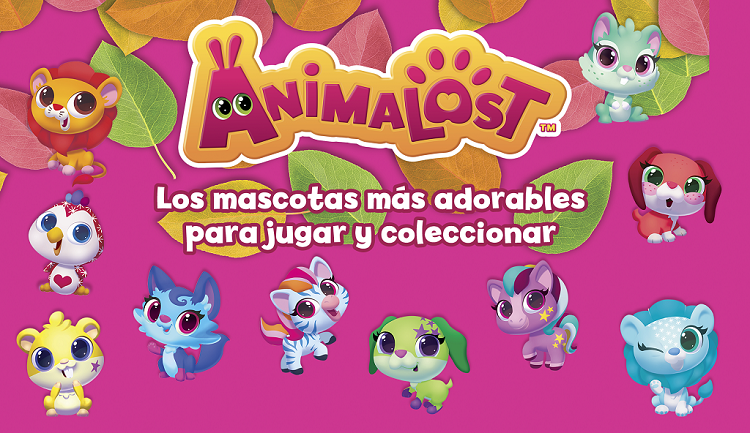 Muchas gracias por tu participación. Hasta la próxima.
¡Estos animalitos abandonados necesitan tu cariño!
Los animalitos más adorables están esperando a que los rescaten y que cuiden de ellos.
Mira cómo cuidarlos y jugar con ellos
Han sido abandonados a su suerte. Están sucios y tristes y necesitan mucho mimos y un buen baño.
No l

os dejes solos… Rescátalos y llévalos a casa. ¡Se pondrán muy contentos!




Han pasado mucho frío, así que lo mejor será que los limpies con agua calentita y mucho amor (hazlo con la ayuda de tus padres). Se convertirán en adorables animales con los que podrás jugar.


Mientras les das un baño también puedes mimarlos. Frótales toda la suciedad y descubrirás qué AnimaLost has rescatado. Ahora que está limpito ¡mira sus colores brillantes! ¿No es precioso? Cada animalito lleva 2 accesorios de varios colores para cuidarlos y jugar sin parar: cepillo corazón, un patito, un pastelito, comedero, muñeco… Tu nueva mascota está lista para que juegues con ella.
Rescata al resto de sus amiguitos para que tenga con quien jugar. ¡Hay 24 mascotas diferentes para cuidar y jugar con ellas! AnimaLost tiene todos tus animales preferidos y muchos más. ¡Colecciónalos todos!
AnimaLost ¡Los animalitos más adorables!
Rescátalos, límpialos, mímalos y juega con todos ellos.
Diviértete con la familia AnimaLost en estos 3 pasos:
1
EXPERIMENTA
Cuando recibas tus adorables AnimaLost, dáselos a tu hijo para que los rescate, los cuide, les dé mimitos ¡y juegue muchísimo con ellos! Recuerda compartir alguno de los AnimaLost con los compañeros de tu pequeño.
2
EVALÚA
¡Cuéntanos la experiencia! ¿Qué es lo más le ha gustado a tu hijo de los AnimaLost? Tendrás disponibles cuestionarios para compartir tu opinión.
3
COMPARTE
¡Queremos ver la amistad de tu hijo con los AnimaLost! En primer lugar, por cada Desafío lanzado, comparte 1 vídeo con los adorables AnimaLost en YouTube, después tienes que compartir 1 fotografía, de forma separada y pública, en tu feed de Instagram y/o Facebook con el hashtag #MiAnimaLost
Si los más pequeños tienen dudas:
miembros.espana@youzz.net
Change location
Select your country from the list bellow
and you'll be redirected to the matching youzz page.