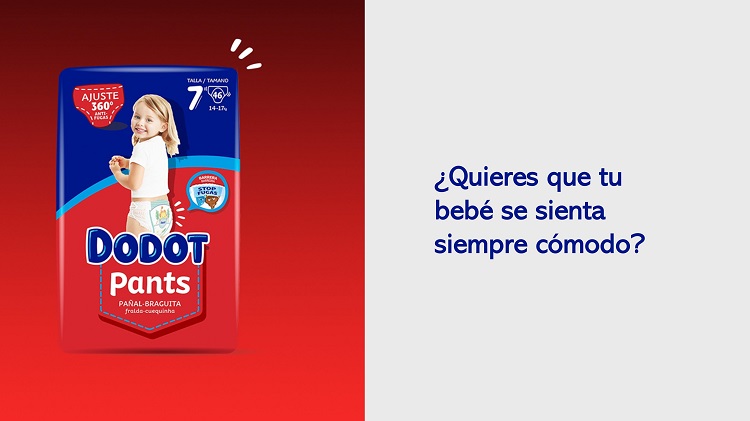 Dodot Pants es el pañal braguita CON CINTURA ELÁSTICA para AJUSTE perfecto 360º y así evitar FUGAS.

Al ser elástica toda la cintura se adapta a la tripita del bebé cuando se hincha/deshincha a lo largo del día. ¡Nunca se suelta y nunca aprieta demasiado! Facilita el libre movimiento del bebé durante todo el día con un ajuste flexible que evita holguras y por lo tanto… ¡fugas!
Nueva barrera STOP Fugas traseras
Con una exclusive barrera stop-fugas traseras que ayuda a prevenir escapes en la parte trasera par auna protección y ajuste 360 antifugas 12h.
Es ideal ya desde los 9 meses/talla 4
Algunos padres piensan que es para bebés en la etapa de transición de 2-3 años, pero es ideal para bebés que empiezan a moverse más, desde los 9 meses.
Este pañal se sube fácilmente como una braguita
Este pañal se sube fácilmente como una braguita pero ¡no la liéis para quitarlo! Se rasgan los laterales para quitarlo, ¡nunca bajarlo

!

E

nróllalo con la cinta trasera.
Probar gratuitamente
¡Dale a tus amigos la oportunidad de probar gratuitamente Dodot Pants! Simplemente haciendo clic en este LINK y ¡pueden pedir 2 muestras y recibir además un cupón de 3€ para usar en las próximas compras!

¿Qué tenéis que hacer tú y tu bebé?
¡Probar los pañales Dodot Pants que vais a recibir! Comparte los momentos más tiernos en tus redes sociales, por cada Desafío publica como mínimo 1 foto/vídeo, separadamente y de forma pública, en el feed de tu Instagram o Facebook (la cuenta que tienes vinculada a Youzz y por la que has sido contratado, la que tiene el mayor número de seguidores). Publica siempre con los hashtags

no te olvides que tienes también que identificar la página

en Instagram @dodot_es
Después de probarlos, queremos saber cómo ha sido vuestra experiencia a través de las encuestas que vais a tener disponibles. ¿Los pañales-braguita Dodot Pants han proporcionado mayor comodidad a tu bebé? ¿Evitaron las fugas? ¡Queremos saber todo!
miembros.espana@youzz.net
Change location
Select your country from the list bellow
and you'll be redirected to the matching youzz page.