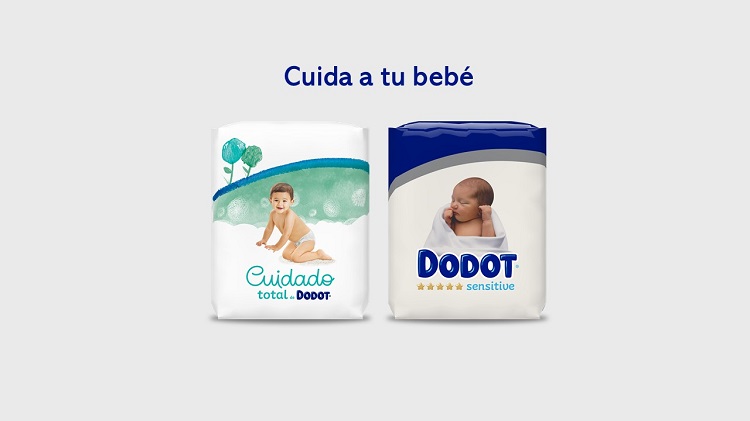 Dodot Cuidado Total con sus ingredientes de origen vegetal, con 0% loción y perfume, y el 100% absorción Dodot
Pañales elaborados con algodón premium, suaves fibras de origen vegetal y otros materiales cuidadosamente seleccionados para la piel sensible de tu bebé
0% Perfume, sin loción ni cloros y 100% absorción
Con indicador de humedad que cambia de color cuando el bebé se ha hecho pipí y bonitos diseños
De
rmato
lóg
icamente testado
Dodot Sensitive: tus favoritos de siempre y más para la recién llegada, ya que cuida la piel del bebé ofreciendo una máxima protección



Tiene una suave capa absorbente gracias a los materiales seleccionados que cuida la piel de tu bebé
Proporciona la absorción única de Dodot de pipís y caquitas líquidas
Tiras suaves y transpirables que se adaptan suavemente a la barriguita de tu bebé
El indicador de humedad varía su color cuando tu bebé se ha hecho pipí
El corte en la zona umbilical proporciona un ajuste suave y cómodo para proteger a tu bebé
¿Qué tenéis que hacer tú y tu bebé?
Proba

r

los pañales

Dodot Cuidado Total / Dodot Sensitive

(según el paquete que recibas).

Comparte los momentos más tiernos en tus redes sociales, por cada Desafío publica como mínimo 1 foto, separadamente y de forma pública, en el feed de tu Instagram o Facebook (la cuenta que tienes vinculada a youzz y por la que has sido contratado, la que tiene el mayor número de seguidores). Publica siempre con los hashtags

y no te olvides de identificar en Instagram @dodot_es
Después d

e probarlos, queremos saber cómo ha sido vuestra experiencia a través de las encuestas que vais a tener disponibles.

¿Los Dodot Cuidado Total / Dodot Sensitive han proporcionado comodidad a tu bebé? Queremos saber todo.
miembros.espana@youzz.net
Change location
Select your country from the list bellow
and you'll be redirected to the matching youzz page.