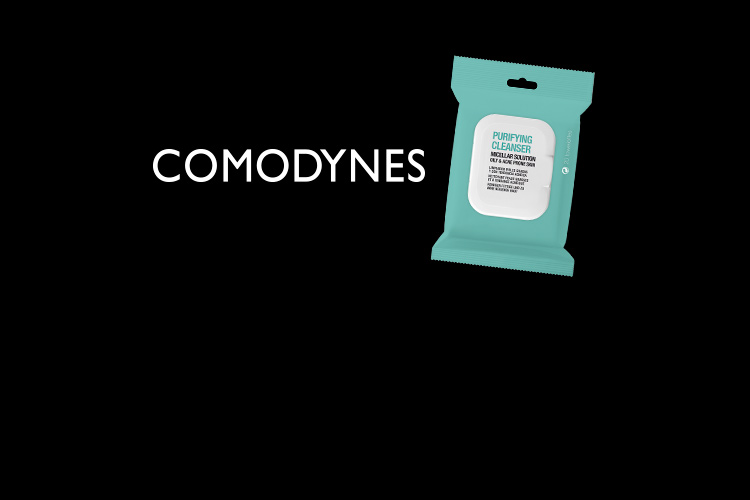 COMODYNES PURIFYING CLEANSER
¿PIEL GRASA, PROBLEMAS LEVES DE ACNÉ?


En esta campaña 200 youzzers tuvieron la oportunidad de tener una piel saludable, fresca, mate y, ante todo, limpia.
En la adolescencia existen muchas alteraciones hormonales que ocasionan exceso de secreción sebácea. Para ello, COMODYNES, de laboratorios Dermofarm, lanza unas toallitas purificantes para las pieles grasas y/o con tendencia acnéica.

Formuladas con la mayor seguridad y bajo los más estrictos controles farmacéuticos, garantizan una higiene facial eficaz, rápida y cómoda. En un sólo gesto, la piel queda limpia, fresca y tonificada.


COMODYNES incorpora la tecnología micelar, tecnología de última generación para una limpieza perfecta y respetuosa con el equilibrio natural incluso de las pieles más sensibles.


FUNCIONAMIENTO DE LA CAMPAÑA

La innovación tecnológica de Comodynes conquistó a los youzzers™ con una experiencia de resultados eficaces.

Los youzzers recibieron:

• 1 carta de bienvenida;
• 2 unidades de Comodynes Purifying Cleanser para su experimentación;
• 10 unidades de Comodynes Purifying Cleanser para compartir con sus amigos, familiares y vecinos;
• 1 guía de campaña con información sobre la marca, el producto y consejos sobre qué hacer y cómo hacer correr la voz.
• 1 bloc de cuestionarios para registrar la opinión de los amigos, familiares y conocidos que supieron de la campaña.



Concurso "Cuidado Extraordinario de Rostro":

Los 3 youzzers que compartieron la fotografía más ocurrente en la Galería de Campaña mientras disfrutaban de Comodynes Purifying Cleanser fueron premiados.

De entre las 10 fotos más votadas, un jurado de Comodynes escogió las 3 más divertidas y se obsequió a los participantes un pack de productos de la marca. Las ganadoras fueron: Rosa Castañeda, Raquel Martín y Cristina Valverde.


Para participar en las campañas de la comunidad youzz:

» Mantente atento a los Cuestionarios de Cualificación disponibles;
» Sí todavía no eres youzzer, regístrate a la Comunidad youzz;
» Para cualquier consulta escríbenos a miembros.espana@youzz.net
Change location
Select your country from the list bellow
and you'll be redirected to the matching youzz page.